Enhanced Mini-Toolbars in Inventor 2012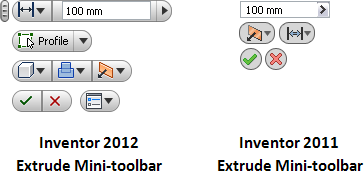 The mini-toolbars are larger, easier to interpret, and feature greater functionality. Mini-toolbars are added for the following commands:
Extrude
Revolve
Chamfer
Fillet
Hole
Face Draft
There are two new mini-toolbar options:
Pin Mini-Toolbar Position
Use the grip button at the upper left of the mini-toolbar to move any mini-toolbar to a different location. You can pin the mini-toolbar so that it remains stationary in the graphics window.
When enabled, if you move the cursor away from the mini-toolbar, it displays in a minimized state.
When disabled, the entire mini-toolbar displays, regardless of the cursor position.